Las Vegas, USA – October 22rd, 2023. Newland NPT is thrilled to announce that our team are taking part in Money20/20 USA which is being held during 22nd to 25th October at the Venetian Resort in Las Vegas.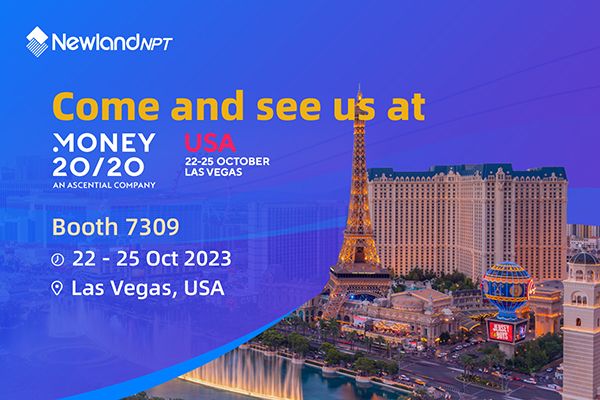 As a forum that gives a sharp and clear focus on the technology and trends shaping the world of finance and payments, Money 20/20 USA brings together many different players in the Fintech industry from banks and financial service providers to payment service providers, retailers and technology startups.
Newland NPT has been working on facilitating payment acceptance at the point of interaction over the past thirty years and our latest technology is embodied in a comprehensive series of powerful Android SmartPOS devices that enable much greater customer engagement as well as running multiple business management applications.
We're really looking forward to getting together with some of the movers and shakers in the global Fintech and payments ecosystem and talk about how our cutting-edge SmartPOS devices can help transform payment acceptance and customer interaction in stores, restaurants, hotels and a wide range of other service environments. We'll also be demonstrating our intelligent, cloud-based device infrastructure which makes it easier for payment operators to deploy and remotely manage large device estates.
Alan Moss, Managing Director for North America, and other key members of our global team, will be keen to talk with you about how our device technology and infrastructure systems can help transform your payment acceptance operations.
We look forward to seeing you in Las Vegas!
About NEWLAND NPT
Since 1994, Newland Payment Technology has been developing and deploying some of the world's most innovative and high-performance payment terminals and is acknowledged as a global leader in its sector. From MPOS to SmartPOS, the company delivers millions of devices annually to some of the biggest acquirers, processors and payment service providers worldwide. Designed for use in any customer-facing environment, from retail outlets and restaurants to public transport and delivery services, Newland NPT's secure payment devices facilitate seamless transactions and smooth interaction between consumers and merchants.
With a presence in 100 countries and 1,100 employees globally, Newland Payment Technology is a member company of Newland Technology group and a fully owned subsidiary of Newland Digital Technology Co., Ltd. (SZE-000997).