Paris, France–September 25, 2023. Newland NPT, one of the top suppliers of payment devices worldwide, took part in the Paris Retail Week 2023 trade show, which was held, at the Porte de Versailles exhibition center from September 19th to 21st. It provided a great forum for showcasing our next generation Smart POS device lineup, which is now being introduced in France and other major European markets.

Paris Retail Week is a leading event for omni-channel commerce in the French market, bringing together major brands, retailers and solution providers, with the goal of highlighting new tendencies and exploring innovation in the broader retail sector. This year's event brought together 370+ exhibitors and some 20,000 professionals to share expertise and knowledge on how to reinvent the way people transact in a tech-savvy world. This lively event gave the Newland team a fantastic platform for demonstrating how our SmartPOS devices and cloud-based service infrastructure can help transform retail payment acceptance, improve the customer journey and ensure the highest levels of business efficiency.

Through a single-minded focus on evolving and streamlining payment acceptance technology over the past 30 years, Newland NPT has developed a comprehensive range of high-performance payment devices, including associated management systems and smart infrastructure. During the three-day event, we gave customers and partners a preview of the U2000 next generation Android unattended payment device. This powerful solution has been designed to transform payment acceptance at self-service kiosks in a wide range of segments from parking, ticketing, and vending through to EV charging. In addition to supporting kiosk management functions and. telemetry, U2000 is also able to drive a range of peripherals including a large external display connected by HDMI.
Newland NPT was also delighted to showcase its full Android SmartPOS series, from the best-selling N950 all-in-one portable terminal, slimline N750 mobile device, high-performance P300 multilane terminal and highly interactive X800 dual-display compact POS system. Immediately prior to the event, we were very pleased to announce that our SmartPOS terminal series were awarded FRv6.2.1 certification by France's interbank system, Groupement des Cartes Bancaires. The certification was achieved through Nepting, the leading provider of payment solutions on Android SmartPOS terminals in France.
The Newland NPT team was joined by Alan Moss, Managing Director for Western Europe and Laurent Tiercelin, Managing Director in France for NewNote Solutions, our strategic European partner. According to Alan: "Paris Retail Week 2023 was a really excellent event and gave us a brilliant opportunity to showcase the latest additions to our best-in-class solution line up. We had a huge amount of interest from customers and partners who had heard about the recent certification of our Android SmartPOS series by France's Cartes Bancaires organization. This latest certification marks a very significant step forward in our European business expansion."
A very special thanks from the Newland NPT team to all the customers and partners who joined us at this amazing event. We were very impressed by the level of interest in our SmartPOS terminal series as well as our cloud-based TOMS device management system. We look forward to working with key players in the French retail payments ecosystem to help enable the digital transformation of commerce!
Stay tuned for more details of our next big retail payments event, Money20/20 USA in Las Vegas!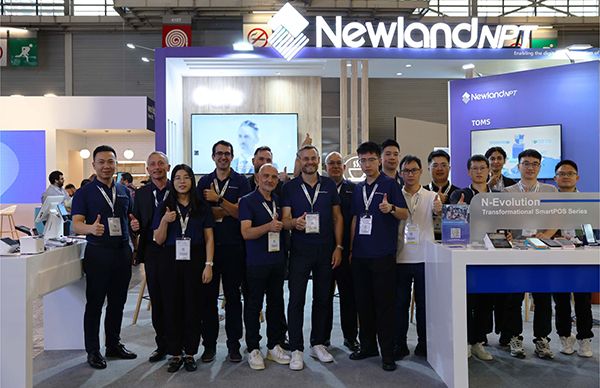 About Newland NPT
Since 1994, Newland Payment Technology (Newland NPT) has been developing and deploying some of the world's most innovative and high-performance payment terminals and is acknowledged as a global leader in its sector. From mPOS to SmartPOS, the company delivers millions of devices annually to some of the biggest acquirers, processors and payment service providers worldwide. Designed for use in any customer-facing environment, from retail outlets and restaurants to public transport and delivery services, Newland NPT's secure payment devices facilitate seamless transactions and smooth interaction between consumers and merchants.
With a presence in 100 countries and 1,100 employees globally, Newland Payment Technology is a member company of Newland Technology group and a fully owned subsidiary of Newland Digital Technology Co., Ltd.(SZE-000997)