Fuzhou City, September 2023. Newland Payment Technology, one of the top suppliers of payment devices worldwide, is pleased to announce that it's N-series SmartPOS terminals have been awarded FRv6.2.1 certification by Groupement des Cartes Bancaires in France. The certification was achieved through Nepting, the leading provider of payment solutions on Android SmartPOS terminals in France.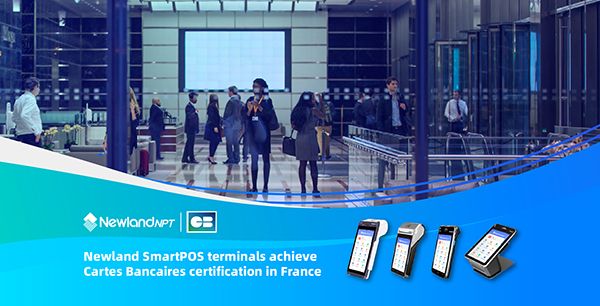 Cartes Bancaires is a French interbank infrastructure which accepts card payments and cash-withdrawals utilizing smart cards. The Cartes Bancaires system supports 2 million merchants in France and nearly 76 million cardholders.
The certification features Newland's best-selling, next generation N950 SmartPOS terminal, which is currently being deployed by acquirers and processors in other major European markets. Other device types included in the certification are the N910 Plus portable terminals as well as the N850 countertop and N700 mobile SmartPOS terminals. Further new device types will be added to the certification during coming weeks.
As part of the solution implementation, Newland's Android SmartPOS terminals have been integrated with the Nepting payment gateway, allowing partners to benefit from the full range of payment functionalities and value-added services provided by Nepting. The terminals will also be connected to Newland's comprehensive TOMS remote management and app store system, making it easier for partners to deploy and upgrade devices with the latest features and services.
Following the certification, Newland's strategic European distribution partner, NewNote Solutions, will be supplying the N-series SmartPOS terminals as well as providing full support and maintenance services to French customers. Newland and NewNote are focused on working closely together to address growing opportunities for the supply of Android SmartPOS across Western Europe. This strategic collaboration enables customers to benefit from the capabilities that both companies bring across the whole device cycle from design and development through to logistics, supply and after-sales services.
According to Kazem Aminaee, President at Newland Payment Technology International: "We are delighted to receive the highly prestigious FRv6.2.1 certification from Groupement des Cartes Bancaires in France. This latest European certification for our best-in-class Android SmartPOS series not only demonstrates the technological pedigree of our payment terminals but also allows us to expand our business in the French market, which is one of the biggest in Europe. We are very grateful to the team at Nepting for making this possible".
About Newland
Since 1994, Newland Payment Technology has been developing and deploying some of the world's most innovative and high-performance payment terminals and is acknowledged as a global leader in its sector. From mPOS to SmartPOS, the company delivers millions of devices annually to some of the biggest acquirers, processors and payment service providers worldwide. Designed for use in any customer-facing environment, from retail outlets and restaurants to public transport and delivery services, Newland's secure payment devices facilitate seamless transactions and smooth interaction between consumers and merchants.
With a presence in 100 countries and 1,100 employees globally, Newland Payment Technology is a member company of Newland Technology group and a fully owned subsidiary of Newland Digital Technology Co., Ltd. (SZE-000997).