Fuzhou, China - September, 2023. The Newland NPT team will be at Paris Retail Week 2023 from 19th September to 21st September at Paris Expo Porte De Versailles. Come and see how Newland's high-performance Android SmartPOS devices and cloud-based infrastructure solutions are helping merchants transform customer engagement at the point of interaction.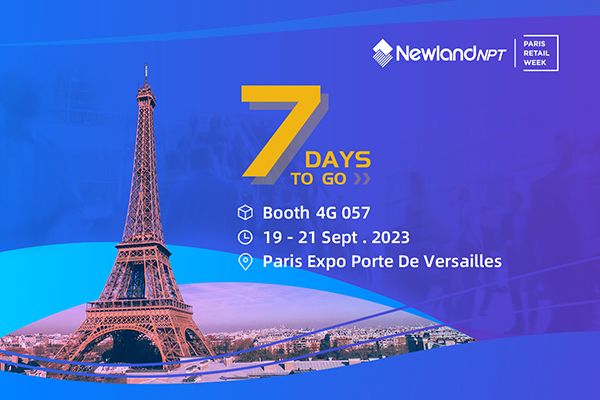 Paris Retail Week is the leading event focused on retail technology for the French market bring together some of the top players in the retail and payments ecosystem from France and elsewhere. It provides a perfect forum for us to showcase some of the latest Newland SmartPOS solutions, which are focused on streamlining in-store sales and delivering top-notch customer satisfaction.
Most importantly, we're very pleased to announce that FRv6.2.1 certification has been awarded to our SmartPOS range by Groupement des Cartes Bancaires – the "CB" card payment system in France – through Nepting, the leading provider of payment solutions on Android SmartPOS terminals in France.
Alan Moss, Managing Director for Western Europe and Laurent Tiercelin, Managing Director for NewNote Solutions France, our strategic partner, would be very happy to meet with you in person and discuss how together we can address new requirements in the world of retail payments.
Do come join us at Booth 4G 057 and find out more about our latest generation Android SmartPOS devices which combine power and performance with intelligent remote management capabilities!
Sign up here for a free pass: https://lnkd.in/gQPUBQZK. Save the date and we'll see you very soon in Paris!
About NEWLAND NPT
Since 1994, Newland Payment Technology has been developing and deploying some of the world's most innovative and high-performance payment terminals and is acknowledged as a global leader in its sector. From MPOS to SmartPOS, the company delivers millions of devices annually to some of the biggest acquirers, processors and payment service providers worldwide. Designed for use in any customer-facing environment, from retail outlets and restaurants to public transport and delivery services, Newland NPT's secure payment devices facilitate seamless transactions and smooth interaction between consumers and merchants.
With a presence in 100 countries and 1,100 employees globally, Newland Payment Technology is a member company of Newland Technology group and a fully owned subsidiary of Newland Digital Technology Co., Ltd. (SZE-000997).