Singapore – November 12th, 2023. Newland NPT will be attending the Singapore Fintech Festival 2023 with promising conversations and showcasing its latest products and technology during the Singapore EXPO Convention and Exhibition Centre from 15th to 17th November.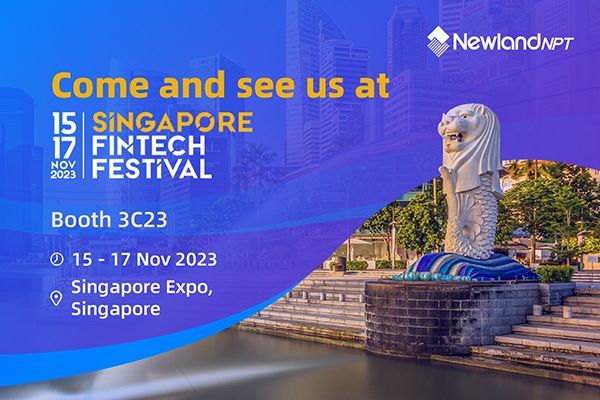 Singapore Fintech Festival 2023 is a forum which provides an exceptional opportunity to connect with technology partners, participate in insightful dialogues, and exchange ideas with some of the most influential players in the payments ecosystem.Over the course of the three-day event, attendees will gain invaluable insights from industry leaders, offering diverse perspectives that can significantly benefit participants.
As a fast-growing player in the APAC market, Newland NPT will be showing our cutting-edge terminals, such as the advanced N950 series Android SmartPOS, the revolutionary U900 modular payment terminal, the compact SP130 countertop PIN pad, the new and improved ME60 MiniPOS, and the upgraded 2.0 version of our TOMS App store and device management system.
We are also delighted to have this chance of introducing U2000-the newly-launched Android unattended SmartPOS device. With a range of connectivity options, a compact form factor and interactive colour touchscreen, U2000 has the ability to transform any kiosk or self-service system into a really engaging point of interaction.
Nimish Swarup, Managing Director, APAC and the team would be very happy to meet with you in person and discuss how together we can address new requirements in the world of retail payments and bring our latest transformational Android SmartPOS devices to the retail payments market.
Access your pass by clicking: https://lnkd.in/g8UenRKV.Experience the newest additions to our robust Android SmartPOS family and explore the advanced cloud-based service infrastructure that simplifies the management of extensive estates and facilitates the remote deployment of innovative features for merchant users.
Do join us at booth 3C 23– we look forward to seeing you there!
About NEWLAND NPT
Since 1994, Newland Payment Technology has been developing and deploying some of the world's most innovative and high-performance payment terminals and is acknowledged as a global leader in its sector. From MPOS to SmartPOS, the company delivers millions of devices annually to some of the biggest acquirers, processors and payment service providers worldwide. Designed for use in any customer-facing environment, from retail outlets and restaurants to public transport and delivery services, Newland NPT's secure payment devices facilitate seamless transactions and smooth interaction between consumers and merchants.
With a presence in 100 countries and 1,100 employees globally, Newland Payment Technology is a member company of Newland Technology group and a fully owned subsidiary of Newland Digital Technology Co., Ltd. (SZE-000997).