The Newland team is proud to be taking part in this year's Paris Retail Week. As a leading player in global retail payment technology, Newland is growing its presence in the European market, supplying devices and associated infrastructure solutions that allow merchants to leverage the benefits of Android SmartPOS at the point of interaction.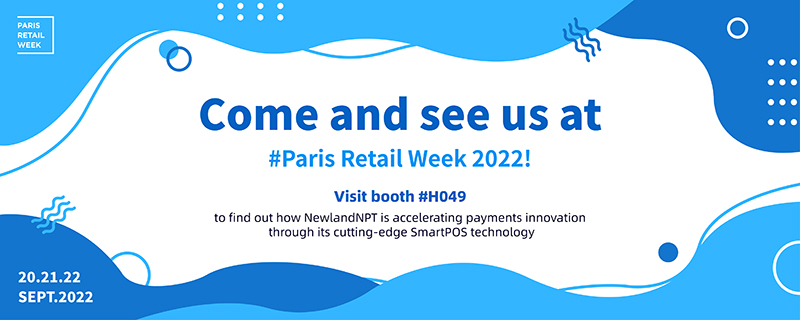 From 20th to 22nd of September, industry professionals will be getting together at the Paris Expo Porte de Versailles to talk about how to revolutionize the retail experience and continue to get customers back instore post pandemic. What a perfect time for Newland to showcase some of its latest SmartPOS solutions, which are focused on improving customer engagement and streamlining instore sales.
Come and see us during Paris Retail Week at booth H049 to find out how Newland is helping accelerate payments innovation through its cutting-edge Android SmartPOS technology.
Alan Moss, our Managing Director for Western Europe will be running a dedicated solution workshop addressing the challenges presented by "New Means of Payment" in Workshop Room 5 at 15:00pm on September 20th. Come and hear how Newland is setting a new standard for customer engagement at the point of interaction! Newland's powerful Android SmartPOS terminals combine payment acceptance with sale and store management software. With sleek design lines, an intuitive color touchscreen, and a full range of state-of-the-art features, they facilitate a seamless customer experience instore.
To find out more about the technology that's transforming the world of retail payments, come and see us at Booth H049!
About Newland NPT
Since 1994, Newland Payment Technology has been developing and deploying some of the world's most innovative and high-performance payment terminals and is acknowledged as a global leader in its sector. From MPOS to SmartPOS, the company delivers millions of devices annually to some of the biggest acquirers, processors and payment service providers worldwide. Designed for use in any customer-facing environment, from retail outlets and restaurants to public transport and delivery services, Newland NPT's secure payment devices facilitate seamless transactions and smooth interaction between consumers and merchants.
With a presence in 70 countries and 1,000 employees globally, Newland Payment Technology is a member company of Newland Technology group and a fully owned subsidiary of Newland Digital Technology Co., Ltd. (SZE-000997).