Fuzhou, China - November, 2022. The Newland NPT team will be at TRUSTECH 2022 from 29th November to 1st December at Paris Expo Porte De Versailles. Come and explore Newland's high-performance Android SmartPOS series, including the latest best-in-class solutions that are transforming customer engagement at the point of interaction.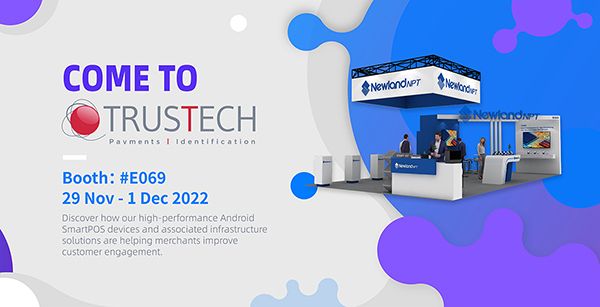 TRUSTECH is a leading international event dedicated to showcasing innovative solutions and new technologies that are being implemented to streamline payments and identification.
As a fast-growing player in the European market, Newland will be showing how its cutting-edge Android SmartPOS devices, and associated infrastructure solutions, are improving customer service and and streamlining the in-store sales experience. We'll be demonstrating a wide range of device technology that facilitates payment acceptance and optimizes business management, connected through our extensive TOMS remote management and App Store system.
Bringing the 2022 events season to a close, TRUSTECH will provide a unique opportunity to meet with our experts and discuss the fast-evolving world of retail payments. Visit booth E069 to find out how Newland NPT is transforming payment acceptance and providing solutions that help merchants drive footfall and increase sales!
Don't forget to download your badge using our FREE invitation code EXP1895289 here.
Also, don't miss our speaking slot on the Innovation Stage at 5.00 pm on 29th November. Come and hear how Newland is setting a new standard for customer engagement at the point of interaction.
We look forward to seeing you in Paris!
About NEWLAND NPT
Since 1994, Newland Payment Technology has been developing and deploying some of the world's most innovative and high-performance payment terminals and is acknowledged as a global leader in its sector. From MPOS to SmartPOS, the company delivers millions of devices annually to some of the biggest acquirers, processors and payment service providers worldwide. Designed for use in any customer-facing environment, from retail outlets and restaurants to public transport and delivery services, Newland NPT's secure payment devices facilitate seamless transactions and smooth interaction between consumers and merchants.
With a presence in 70 countries and 1,000 employees globally, Newland Payment Technology is a member company of Newland Technology group and a fully owned subsidiary of Newland Digital Technology Co., Ltd. (SZE-000997).